Coming Soon: ISC Coilover Air Piston Cup Kit. Looking For Testers!
Test Fitting Opportunity:
We have been working on our ISC air piston cup kits for some time now and they are almost complete. We are looking for some select fairly local individuals or people who are willing to make the drive to our R&D facility located next to our warehouse here in Gilford New Hampshire. The individual will be compensated by getting a deep discount on the products and labor in exchange for us doing installation/ testing  the vehicle.
If you are interested please contact Andrew; info@iscsuspension-na.com
Looking for the following for testing:
2002-2007 WRX/Sti
2008-2014 WRX/STi
2015+ WRX/STi
Nissan 350z
Nissan 370z
Nissan 240sx
Evo 8/9
Evo 10
BMW E30
BMW E36
BMW E46
BMW E9X
BMW E60/E61
BMW E39
BMW F30
Ford Focus ST
2015+ Ford Mustang
Hyundai Genesis Coupe
Lexus IS300
Lexus IS350
Lexus ISF
Lexus LS400/430
Lexus GS300
Mazda Rx7
Mazda RX8
If you do not see your vehicle on this list feel free to still contact us!
________________________________________________________________________________________________________________________
Image of our prototype (production will have anodized finish and ISC Logo)
Here are some visuals from a drawing for reference, note there are 2 primary components; the air cup housing itself then the piston.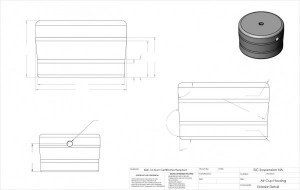 What Is A Coilover Air Piston Cup Kit?
A coilover air cup kit is a happy medium between actual air ride and static coilovers. In fact it takes the benefits from both, and for the most part leaves behind the negatives associated with each. Might sound to good too be true, but we speak the truth!
Air cups do NOT sacrifice performance like a traditional air bag , AND coilover air cups have the ability for instant height adjustment when needed.
How Does A Coilover Air Piston Cup Kit Work?
A aluminum cylinder with a internal piston sits on top of the coilover spring, replacing the upper spring perch. At normal "static" coilover ride height the air cup remains inactive, and is simply treated like a spring perch as the coilover functions normally. When a increase of height is needed (about 1-2 inches) in seconds you can raise the vehicle height as air pressure fills the cup chamber and pushes a piston down, in return compressing your spring and raising the vehicle. This is perfect for a track car getting out of a trailer, or a stanced car getting over a speed bump or up a driveway. You can sustain all the great performance features of your ISC coilovers, but have the convenience of air ride.
Specs:
6061 Machined Aluminum
Anodized Finish with ISC Logo
Designed and Assembled in USA
USA made seals/ 0-rings
Limited Lifetime Warranty on Cups
1 Year warranty on all seals/ 0-rings
Fitment: ISC Coilovers
1-2 inches of height adjustment depending on application
MSRP: $899.00 (1 pair of cups, air management sold separately)
Air Management:
Air management can be chosen by the consumer or purchased from ISC directly. We suggest the Viair Compressor / air management kits.
Image of the suggested Viair compressor (sold separately). A tank is optional. These items will be added to our store when the cup kits are introduced.
More information coming soon!
Expect to see these on the shelves in April of 2016