Volvo is well known as the company that produces the safest cars on the road. They have always taken pride in the safety reviews of their cars. Specifically the Volvo S40 began receiving special treatment with extra safety features. This included better handling, steering, and braking. But regardless of this, like all cars, the stock Volvo S40 suspension is rather lack luster in regards to performance. Why not upgrade your S40 with our ISC Volvo S40 coilovers that come with a 32 way adjustable damping that is rebound and compression in unison via 32 step adjustment. Our springs are made from high quality SAE9254 Steel. They are dyno tested over 500,000 times on a compression inspection with less than 5% deformation. Each suspension set is ISO9001:2000R Certified as well as ARTC Certified. Browse our solutions below.
Volvo S40 05+ ISC Basic Coilover Suspension
V102B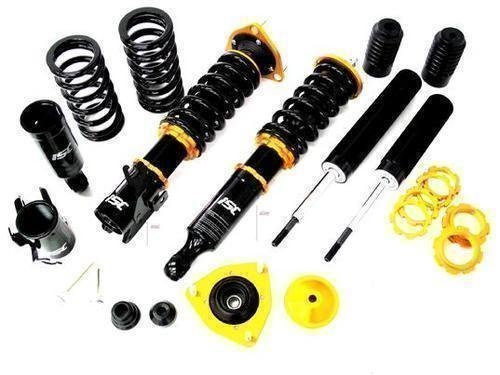 ISC Basic Coilover:
The ISC Basic Coilover system is all about adjust-ability combined with affordability. The ISC Basic has all the same great features of our ISC N1 coilover, including 32 way adjustable damping, full height adjust-ability, mono-tube dampers, premium hardware and more, with the exception of adjustable top camber plates. The ISC Basic coilover will come with a gold anodized aluminum top plate featuring a rubber top mount designed for comfort. ISC coilovers are also 100% rebuildable!
Warranty:
All ISC Basic Coilovers are backed by our industry leading limited lifetime warranty!
Valving Option
Street Comfort (0) Street Sport (0) Track/Race (0)