For fine-tuned suspension settings
Adjustable Subaru Toe Arms
Our new ISC toe arms have been designed to allow the end-user to fine-tune their suspension settings which can be especially beneficial for those with lowered vehicles, as these can restore the overall suspension geometry. These are made using strong and durable materials to provide you with great performance while withstanding demanding conditions such as the elements of track use or daily driving.
Part number: ISC-S012-TA
MSRP: $400.00
Specifications
7000 series aluminum construction, with anodized gold finish
Eccentric lockouts come standard with all ISC toe arms
Large adjustment range for improved alignment settings
2008-2014 WRX/STi
2014-2018 Forester
2015-2020 WRX/STi
2009-2013 Forester
BRZ/FRS (all years)
2010-2013 Legacy
Nissan Toe Arms
Due to the popular demand of our Subaru Rear Lower Control Arms, we have expanded our control arms to the Nissan 240sx chassis! Our new Nissan 240sx Lower Control arms feature the same adjustability as our Subaru arms and only weigh in at 2.65 lbs per arm! Anodized in an ISC gold finish of 6061 Aluminum and featuring street seal technology these control arms are made to be used on the street and drift track!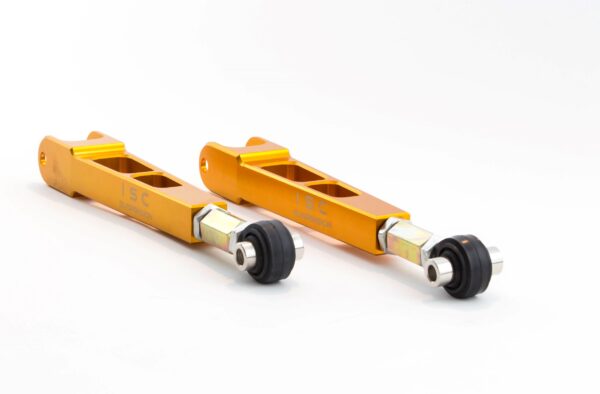 Fine-tune your suspension with ISC Toe Arms