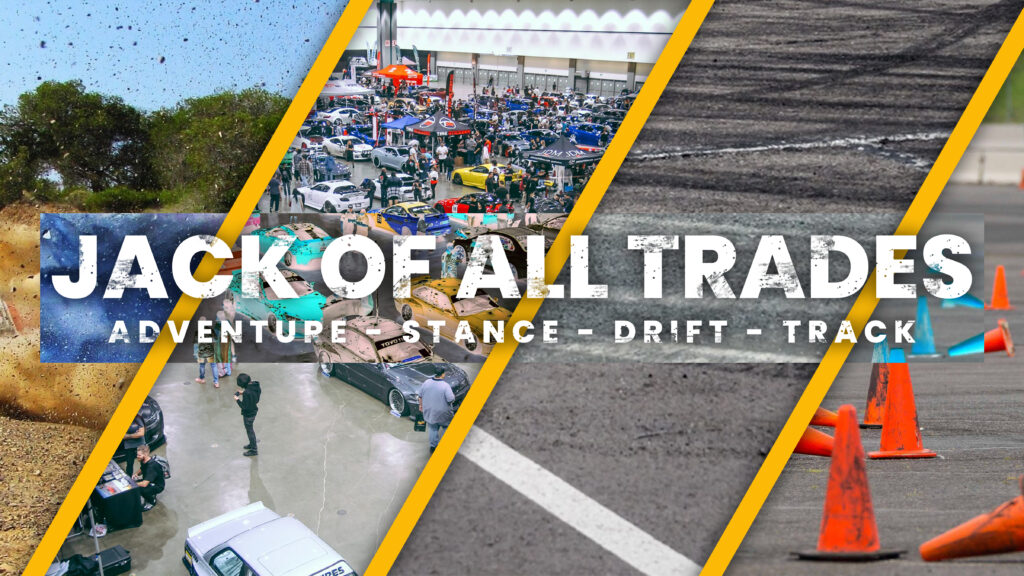 Jack of All Trades. A Phrase that best describes the Subaru BRZ. Having a car that truly does "it all" sounds pretty far-fetched, but if you start looking more into the BRZ, you see more and more people using it for the many different genres of motorsports. And here at ISC, our goal is no different. We are going to put this car through its paces and push this car in each type of scenario. Like the BRZ, our suspension products are versatile and can be changed and adjusted for these different disciplines. This car is rigid, yet forgiving. Playful in all the right places. Lightweight, and agile make this car truly define what a sports car is. You may think "how is it such a good sports car with only 228HP?" Well, it's the fact that you can use all 228hp to really push this car. You can use the whole power band and really drive this car aggressively (even on the street) without going into too much trouble. As they say, "it's better to drive a slow car fast, than a fast car slow", and we truly believe that. While this car is NOT slow, the updated extra horsepower, and extra torque really make this an upgrade from the previous gen BRZ. On backroads, high up in the RPM's is where this car shines. 
So with that being said, we will be putting this car through 4 different tests over the season of 2022. We already had it out on the ice, at a whopping 110mph. Next, we will be pushing this car through some rally type driving, drifting, autocross/track, and finally slam this thing down with some nice wheels and head to a show. From Ice drifting, to car shows, it truly will be the jack of all trades.
The BRZ is one of our most popular platforms here at ISC, with multiple products available such as our coilovers, control arms, spacers, and accessories alike. Since almost every car in the employee parking lot is a Subaru already, this addition to our project car program made perfect sense and it certainly fits right in.
This build will allow us to provide end users with valuable content for our existing popular sellers (installation + adjustment videos, product feature videos, advice on what suspension modifications to make- and when, + common FAQ's) and also allow us to continue making some NEW products for this platform; using this 2022 BRZ for our product development platform for future BRZ and GR86 suspension products.
We aim to modify this 2022 BRZ in the suspension department in various steps that we suggest for any modified street car, or weekend track car. This can act as a guideline for almost any build, starting at stock, and working our way to track ready modifications, but keeping it daily driver friendly. This page will be dedicated to the content we build along the way, for both existing and new products for this car, so stay tuned for our first formal publication. We hope the suspension topics within this build will help you with your next (or current) project car!
Getting Our New BRZ On The Ice (2/22)
We picked up our 2022 BRZ earlier this month (January of 2022), so we have only had it for a couple of weeks so far. We can confirm that the BRZ/GR86 lives up to the hype, and then some. The chassis stays planted to the road, and is very responsive even with OEM wheels/tires/suspension. To learn more about the 2022 + BRZ and GR86, check out this
Vehicle Spotlight
 Feature we did earlier this month.
We immediately swapped over some Sparco Terra wheels, with General Altimax studded snow tires paired with our ISC hub-centric Subaru wheel spacers. With winter this year in New Hampshire seeming to be promising thus far, we aim to also run a full studded ice tire setup, and take advantage of the nearby frozen lakes for some ice racing and "ice drifting", so expect to see some content or a summary of those activities soon!
A few weeks, and 800 miles later,our new 2022 brz project car was ready for more than the normal daily driving. While it was a pleasurable experience driving this car even just for the daily commute, it was time to have some more fun with it, and really feel what this new BRZ is all about. It was early February here in central New Hampshire, so obviously, there are no track days, autocross, or anything like that. But you know what we do have? Frozen lakes, snow, and more frozen lakes. So on that note, we got some Method Race Wheels, and some bolted/studded ice tires. Tires like this are more than just studded snows. Although studded snows help a lot, they do not provide enough traction/grip for what our goals were on the ice with our BRZ.. Once that task was complete, we waited for a nice weekend morning, and headed out to test not only how well these tires hold up, but more importantly, test this new BRZ.
The morning of test day, we gathered the ISC crew and set out for the lake. First step was driving out onto the ice and installing our newly studded Wheels, we set our tire pressures, and off we went. Within the first few minutes we were hitting over 100MPH… With plenty of traction! Next we tried drifting. It took some getting used to but it worked flawlessly. Plenty of grip even when the lake was glossy ice. After we got acquainted with the car, we put together a  video plan. Some planning later, and a whole lot of fun, we got the shots we needed, and it was time to have some more fun.
After the video shoot, it was time to let the rest of the crew try out the BRZ. From right to left, we have Andrew (Founder of ISC-NA), Matt (ISC Media), Justin (Crew Chief of the Day), and Shane (Support Manager). While there were plenty of spin outs and failed drifts, everyone learned the car surprisingly quick. We all had a blast learning the car,and we are very impressed with this new generation BRZ. It is definitely an upgrade from the previous generation in just about every way. More power, stiffer chassis, more modern tech, much nicer interior, as well as the very attractive new body. It's safe to say this car will be in the ISC fleet for a while, as it is such a well balanced and fun car. Stay tuned for more mods and plenty more fun.
 BRZ Coilover Install (03/22)
This BRZ has been fun for the last couple weeks of driving, but it was time to get more out of the car, and finally put it on some of our N1 coilovers. Our friends over at  Kinetic Motor Works also have a 2022 BRZ, so we figured we could drive our car down to their shop and have them both get the full ISC treatment at the same time (and make a video of it too obviously)! 
First things first we pulled both BRZ's into different bays at Kinetic. Kyle (an old ISC employee) got started on the install on the Kinetic BRZ, and Ryan (Kinetic employee) went ahead and started the install on our white BRZ. Seeing 2 brand new cars getting torn down was a very cool sight. Most people haven't even seen the new BRZ yet, and here we are with 2 of them, tearing them down and installing suspension on cars with under 2000 miles! For today's install, we have our ISC N1 coilovers, which feature our 32 way adjustable damping for a wide variety of ride adjustment. Next we have our adjustable control arms. These will allow camber adjustment for a wider range of different wheels and tire setups, as well as different alignments for different uses of the car. Accompanying the control arms, we have the ISC Toe Arms. These arms give you adjustability unlike the stock fixed length toe arms. This helps keep your wheels in line, even at the most aggressive camber settings. Lastly, we have our BRZ front control arm brace. This is just stronger and lighter than the factory brace to help with stiffening up the front end, and prevents the stock stamped steel brace from flexing.
On to the install. What is great about the new gen BRZ, is that all the parts from the first gen fit on the second gen. This is huge for the aftermarket world, because it not only made everything easier, it also made modifying these cars so much easier/faster since so many parts were already available. Installing the components was very straightforward. Everything came off like butter since they are brand new cars after all. It only took a couple of hours, and the cars were on the alignment rack getting the final adjustment. The first drive with the new suspension was exactly what you'd want out of a coilover. Since this is already a stiffened car from the factory, over bumps with the coilovers, it almost felt like we never put them in, however when we tested them around corners, with some spirited driving… That's where you can see the night and day difference. Before, this car had body roll, while it was still a fun "stiff" sports car, there was still some body roll and it felt like it needed some help. Now, all of that is eliminated. 0 body roll, and much improved handling characteristics, while still being comfortable.
With Wicked Big Meet coming up, we knew we had to do something special with our new BRZ. Luckily we have done some cool things with this car so far, and we decided to do something a little different at our booth. Instead of putting some nice wheels and  tires to show the stance off, we decided to show more of what this car is capable of… And what better way to do that, than make a snow / ice themed booth for the car to recreate the day we had out on the ice last winter. The first step was to figure out how we can make the car look cold and snowy, when it's sunny and 80 degrees. Some brainstorming and some amazon ordering, we had everything we needed. A couple things we really wanted at the booth was a tv playing the ice drift video on loop behind the car, that way people could see this car in action, and know that we did actually ice drift with this exact car. Another element we wanted to have is the "danger, thin ice" sign to add another sense of really being out on the ice. So, we packed up the cars, and booth items and headed from NH to CT. We drove the brz down and it handled it like no problem. The N1 Coilovers felt like a dream. Even some highway bumps and holes, you could barely feel them. Once at the event, we fully set up the ice scene for the first time with the fake snow and of course, we threw on the fully studded tires to really complete the look. It looked awesome. It was unreal how real the snow and fake ice looked. It was almost like the car drove right out of the tv and into WBM. All day people were looking at the BRZ and loving it. Which was what we hoped for. Why have another brz lowered on some stancy wheels, when we could do something so unique, that nobody at WBM would've seen anything else similar while at the event. So, now we have done the ice driving, we've done a show with the car, stay tuned to see what else we do with this BRZ in the near future to really prove that its the jack of all trades!