Introduction
Project Goal: To build a fun reliable daily street car, with strong points in spirited mountain road driving and grassroots rally-cross events
Vehicle: 2017 Focus ST
Start Date: December 2018
By: Andrew
The Focus platform has always appealed to me, and no not just because of the awesome stuff Ken Block does with Ford. Their value, versatility, performance, and overall presentation have kept my attention for years. When it comes to trucks, both personal or for the business, it's always a Ford Superduty (6.7 diesel in recent years). A couple of years ago I had a deposit on a new (white) Ford Focus RS, things changed and it didn't end up working out. The past 6 months or so I was running a Ford Taurus SHO (the new ones) and it was a great car. Great for personal use, almost 400HP AWD with leather, heated seats, A/C seats, heated steering wheel, it was pretty awesome. But it was missing value for the ISC brand, those cars are pretty underappreciated and let's face it not enough people demand parts for them in the aftermarket industry, so I always felt kind of guilty owning it, even though it was my personal vehicle.
So I decided to switch it up, and grab this 2017 Focus ST, with 11,000 miles at a local used car dealership here in NH. Stock except illegal tint (which I need to take off) and a MBRP exchaust, so needless to say a good starting point. We will use it for marketing, product development, daily use, and some occasional ice racing on Lake Winni or some grassroots rally-cross up at Team O'Neil Rally School.
12/15/18- Chapter 1- First Modifications For Focus ST
So I immediately overnighted a COBB Accessport, because I haven't been able to play with one of those since my Subaru days! For some reason COBB just doesn't make anything for LS Swapped 350z drift cars! In addition to the COBB Accessport, I also grabbed one of their intakes, again via overnight due to my level of excitement! I grabbed some WeatherTech floor liners, COBB motor mount, and some of our ISC spacers, but we will discuss those at a later date since I have not installed them yet (waiting for snow tires to show up).
The changes were significant, and although I only owned the car for about 48 hours prior to tuning it, I can say the Accessport and intake are 100% worth it. Next week we will be installing the snow tires, ISC Spacers, and perhaps painting the OEM wheels. In addition to hopefully getting some vinyl design in the pipeline so we can get the car properly dressed with some ISC branding.
December 2018- Chapter 2- Coilover Install
So we finally got around to installing some ISC Street Sport Basics on our project Focus ST. We opted for this package due to it being what we felt as the most appropriate valving and spring rate option for this vehicle, at least for what our plans were for it, and what it was used for daily. The Basics are cost effective, and a great choice for many street cars who may not need the camber adjustment. More can be learned about these by clicking the link here.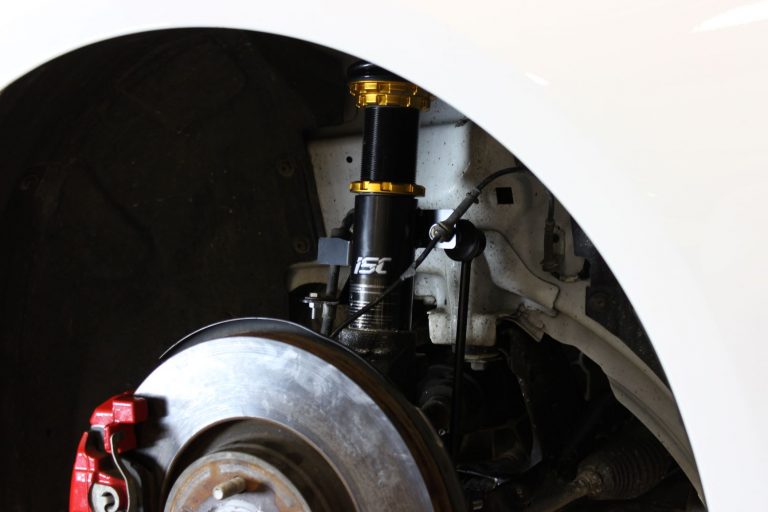 We have a short video summarizing some of the installation steps, and a formal install write up will be available soon.
We set a moderate ride height that was still friendly towards harsh new England roads and winters, but still increased the handling and overall presentation of the car. The turn in on the car is much more responsive now, and the overall handling characteristics have increased. As many people will tell you, it's interesting how a FWD Focus ST has the tendency to over-steer, which in return will put a smile on anyone's face.  This car loved back-roads, and with these new modifications it has brought out the true performance sole of the ST.