ISC 2015+ STi Project Car
The 2015+ WRX/STi chassis is one of our most popular platforms here at ISC, with multiple products available such as our coilovers, control arms, spacers, and accessories alike. Since every car in the employee parking lot is a Subaru already, this addition to our project car program made perfect sense and it certainly fits right in.
This build will allow us to provide end users with valuable content for our existing popular sellers (installation + adjustment videos, product feature videos, advice on what suspension modifications to make- and when, + common FAQ's) and also allow us to continue making some NEW products for this platform; using this STi for our product development platform.
We aim to modify this STi in the suspension department in various steps that we suggest for any modified street car, or weekend track car. This can act as a guideline for almost any build, starting at stock, and working our way to track ready modifications, but keeping it daily driver friendly. This page will be dedicated to the content we build along the way, for both existing and new products for this car, so stay tuned for our first formal publication. We hope the suspension topics within this build will help you with your next (or current) project car!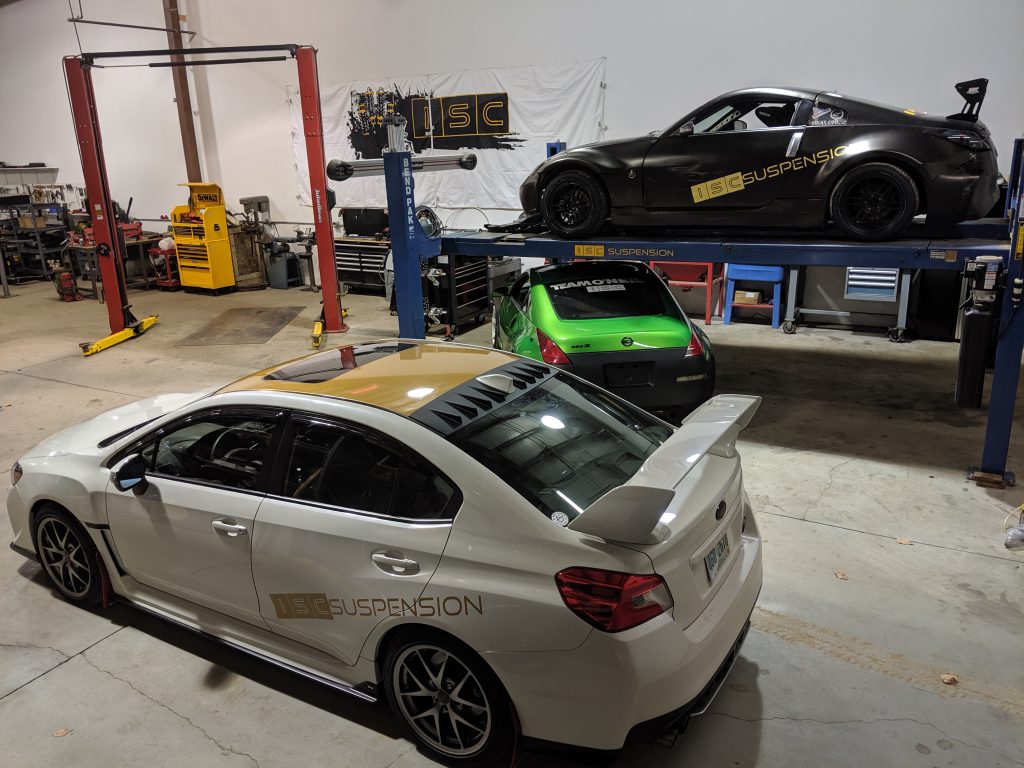 At this time the car is pretty much stock, well pretty much. As soon as we got it we installed some of our new 5×114 Hub-Centric 20mm ISC Spacers.
As many of you 15+ chassis owners know, this is essentially the perfect fitment for the OEM STi and WRX wheels, allowing for a more aggressive look, and lets be honest; most of these OEM STi wheels are pretty awesome, they just need  some assistance in the fitment department.
After that and some decals, we purchased a COBB Accessport, COBB Intake, and some used Perrin Mufflers (for now). The car had about 40,000 miles on it, so we did a 30,000 mile service on it just to be safe. Some NGK one step colder spark plugs, a compression check, new drivetrain fluid, and a few other maintenance related items.
Build Update January-March
It's been a while since we have updated our build thread on this car, but we have been busy with it. There are some awesome new prototype products in the works for this chassis, and the past few months the STi  has been a test mule for these new suspension bits. We will release more details on these at a later date!
NEW Product- ISC N1 Ultra Lows:
On of the new products we were working on is officially completed, and we are happy to  announce our new ISC N1 Ultra Low coilovers. These coilovers use shorter bottom mounts, and a shorter rear damper. This product is ideal for the show car enthusiast, looking for optimal stance. Here is a video of our recent installation on our project ISC STi, as well as some specs on them:
New 18×9.5 WedsSport SA-10R wheels
We also teamed up with our friends down at Subimods, and installed some new 18×9.5 WedsSport SA-10R wheels in bronze. These are a super light Japanese motorsport wheel, and gave a great stance to compliment the ISC N1 Ultra Low kit. We were kids in a candy store down there, and also added the new COBB Tuning Titanium catback exhaust, and ditched the used Perrin mufflers we initially bought.
To further dial in our fitment we installed our ISC V3 adjustable rear control arms! This allowed us to get the correct amount of rear camber on this car, taking into consideration the wheel specifications and the ISC N1 Ultra Low ride height.
These have an adjustment range of 5 degrees, which will allow virtually anyone to obtain their goal, whether it is for a street car, or a track car. They are made from machined 6061 aluminum, and feature top grade hardware, and a pillowball rod end. These are much stiffer than most of the aftermarket options out there today that are made of stamped steel. Here is a video highlight of installing them on the ISC STi, as well as some features and specifications.