ISC Rear Adjustable Control Arms V3
S012-CA-V3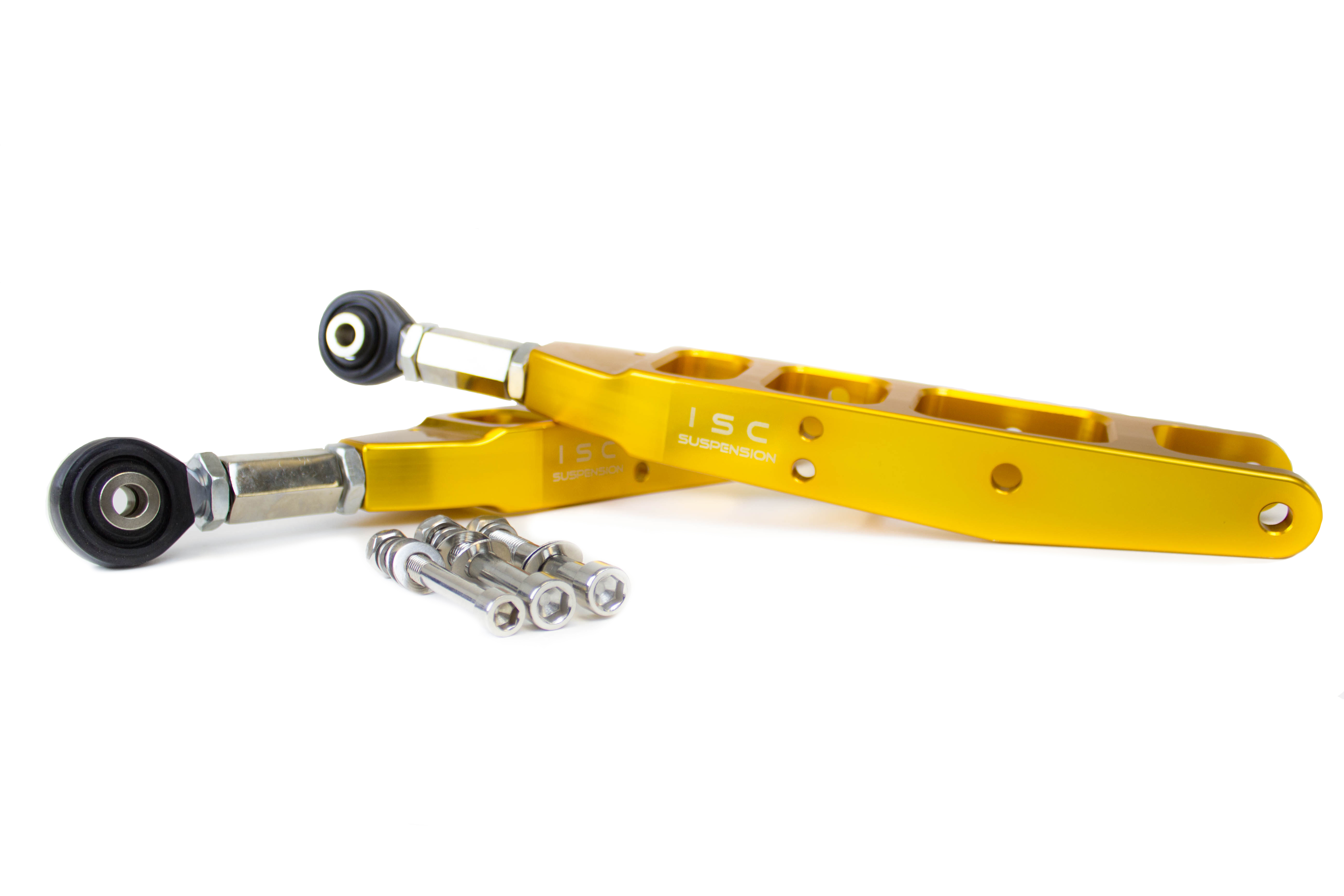 NOW INCLUDES PILLOWBALL GREASE
You asked, and we delivered! You no longer have to purchase stamped out and welded adjustable aluminum or steel control arms from other brands. A quality and clean 6061 CNC aluminum solution now exists!

*Not Recommended for offroading/4-wheeling*
The all new ISC V3 Rear Control arm features the same great features of the original, but is now 1 lbs LIGHTER, and even more ascetically pleasing to the eye! Maintaining the same structural strength of the original, the V2 control arm also now features 2 individual mounting points for Rear Endlinks for even more aftermarket adjustability!
The ISC Suspension Rear Adjustable Control Arm
Our new V3 rear adjustable control arms are now available for the 08+ Subaru WRX/STI and Subaru BRZ and Scion FRS. A product that surpasses its competition by having better quality, availability, and price! This product is ideal for anyone with a 08+ who is lowering their vehicle on coilovers or even lowering springs. Using these adjustable arms will allow you to obtain correct camber settings, and in return a functional alignment and stance.
Our adjustable control arm is 6 times stronger and stiffer than OEM, allowing for better performance when you are pushing your vehicle to the limit. Our V3 control arm is now also 1 lbs lighter than the original with increased strength when compared to the V1 and V2. The highest grade hardware is included, and the control arm itself is constructed of CNC machined 6061 aluminum with an anodized ISC gold finish. Our logo is engraved into the arm as well for a sharp cosmetic appearance. These rear adjustable control arms are designed to be easily adjustable and durable for a lifetime of hard cornering and suspension abuse. The V3 control arm also now features 2 mounting points for rear endlinks, providing even more aftermarket solutions.
Whether you use your car as a daily driven street car with a nice stance or a track monster, these adjustable control arms will make your suspension work better, hands down.
Specifications
• 6061 Aluminum
• Top Grade Stainless Steel Hardware, Pillowball Bearings
• Street Seal (TM) corrosion protection technology
• Anodized Finish
• Lightweight, 1 lbs lighter than V1
• Large Adjustment Range 5 degrees, 2 endlink mounting points
• Fitment: 2008+ WRX/STi Sedan/Hatch/BRZ/FRS
What is Different?
ISC Suspension Control Arms are the only ones currently on the market that utilize a sealed pillow-ball bearing (Street Seal). This allows ISC control arms to be much more durable over our competitors. ISC Control Arms have been carefully crafted to be the best we can offer to the community. Our V3 control arm is lightweight, fully adjustable, and 6 times stronger than the OEM equivalent.
Fitment
08-14 WRX/STi (0) 09+ Forester (0) 13+ FRS/BRZ/GT 86 (0) 2015+ WRX/STi (0) 2010-2013 Legacy (0)