Catering To Customization And Choosing The Right Suspension For Your Needs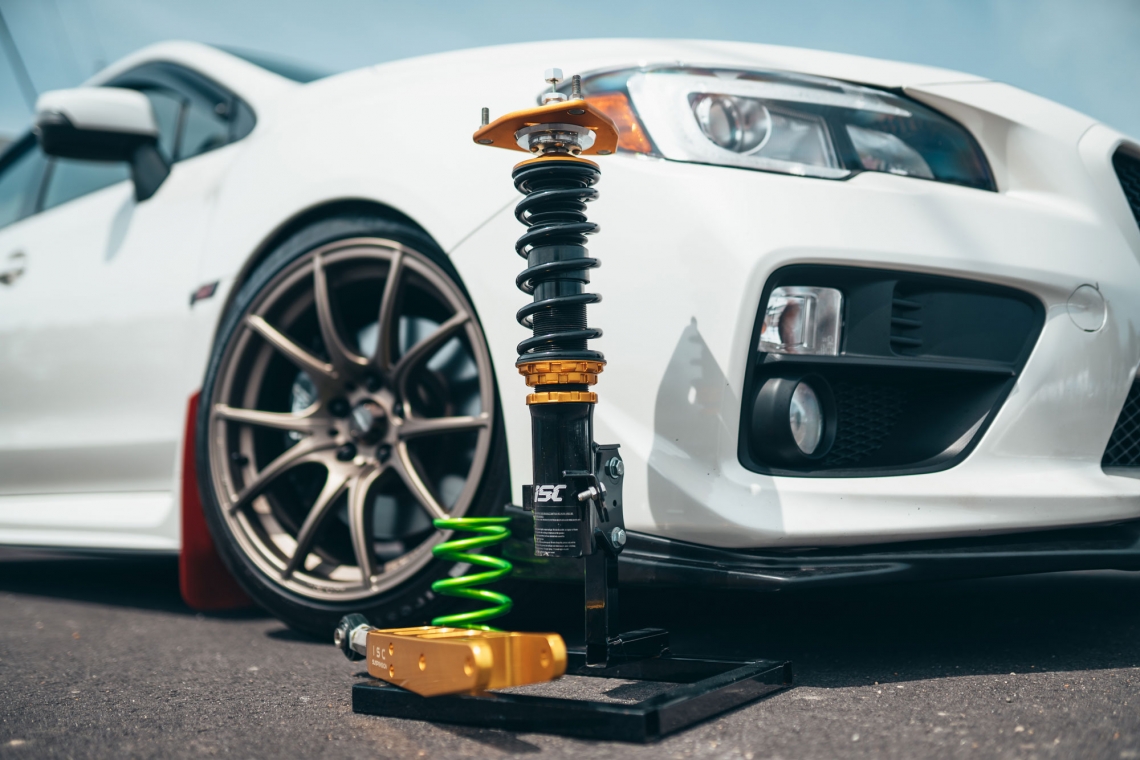 ISC Suspension has been at the forefront of suspension development for the past several years, and because of that, they offer various customization options when ordering their suspension, just like many other suspension manufacturers. For a first-time buyer, the options can be overwhelming, which is why we sat down with Andrew Wallace of ISC Suspension to break down coilover customization. Take it away, Andrew!
In the world of aftermarket suspension, modifications can seem endless. Customization to meet unique goals is often needed; but does everyone need a "custom" aftermarket coilover? It can get overwhelming quickly, and making a coilover purchase can be a big investment. There is a lot of great information out there, but also a lot of misinformation too. We created a recipe to help streamline the process of catering to an individual's needs, by offering the consumer several "semi-custom" off the shelf options, but still allowing for full blown custom setups when needed as well. More on these options later.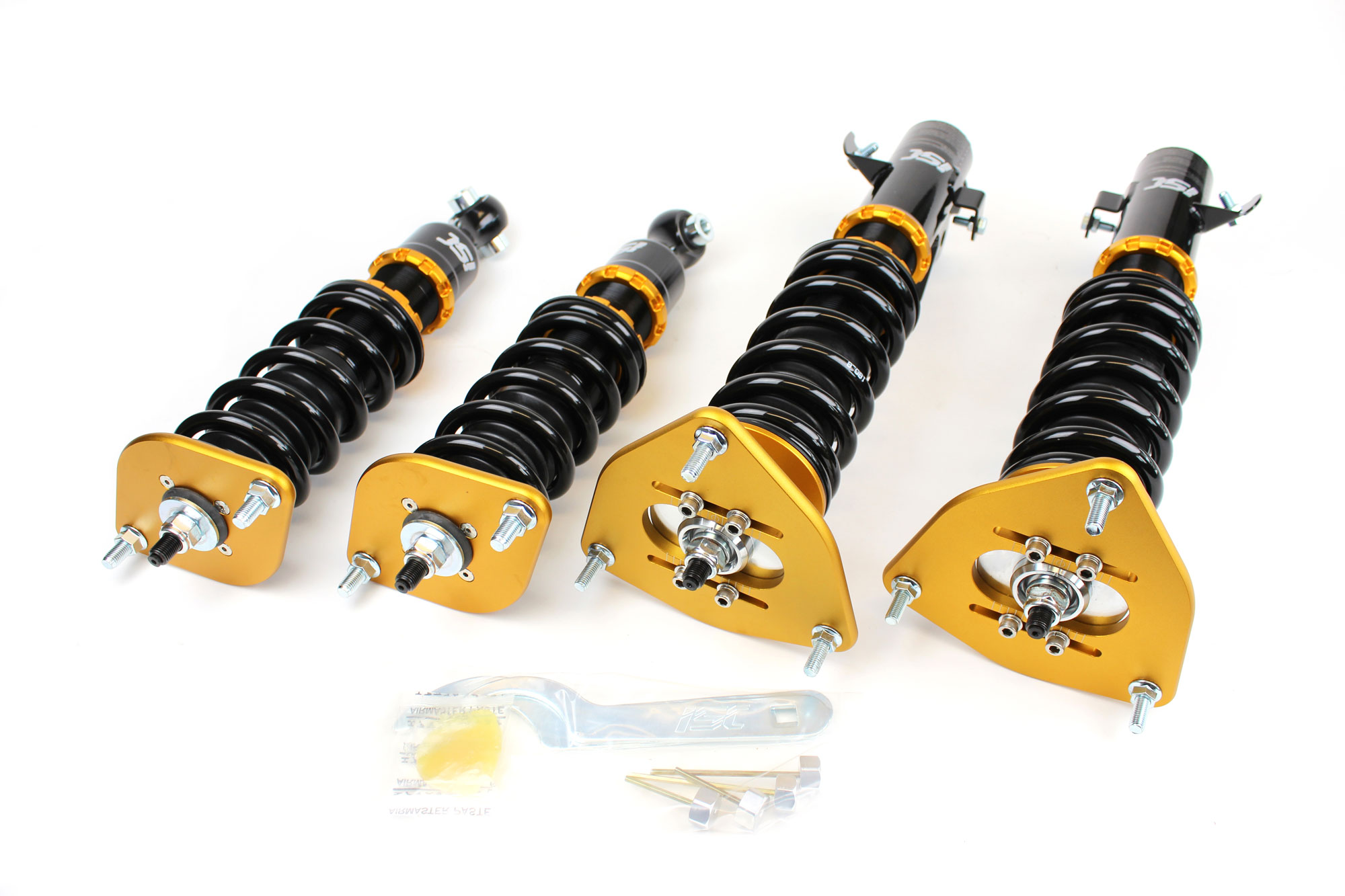 How to determine spring rates and valving.
When someone reaches out to inquire about getting suspension for their car, I always start with asking; what do you use the car for currently, and what do you plan on using the car for?
These questions are simple, and may seem obvious to ask, but they help us identify what the customer may need, vs what they initially think they need when they first inquire. For example not everyone has the ability to have an awesome street car, and a track car, so many people use their car for both. A daily driver for the 9-5, and on the weekends doing some club events, like HPDE, Autocross, grassroots drifting, etc. If these questions weren't asked, then most likely the customer would have ordered or asked for our track/race dampers when in reality, based on their true needs, the street sport dampers would have been a more well-rounded option for their lifestyle. Having options and customization is great, but they need to cater to the vehicle itself, and most importantly what is done with that vehicle.
Identify the true needs, then customize. This gets the best result. Larger body cars or crossovers deserve coilovers too! Say for example a 5 series or 7 series BMW, or a crossover like a Subaru Forester. Catering to a specific lifestyle and accommodating for that along with the vehicle specifications itself are details to take into consideration. On a forester we often use an 8/6 or 10/8 kilogram spring rate (depending on what chassis Forester) for our street comfort and street sport dampers. If the customer uses their Forester to tow, or go camping on the weekends we sometimes bump them up 2 kg in the rear, to accommodate for the additional load. Many of these people carry passengers and drive to work daily, a street comfort damper or street sport camper can help keep the car daily driver friendly, and family approved.
One of the things that sets ISC Suspension apart from its competitors is that we offer 3 different valving options for all ISC N1 and ISC Basic coilover kits. The valving on each was chosen and designed to suit a different customer's need. Sure, some of our competitors offer "custom valving" and/or custom spring rates, but that typically comes with a higher cost or longer lead time. At ISC Suspension there is no additional charge associated with these options. The options are broken down further below: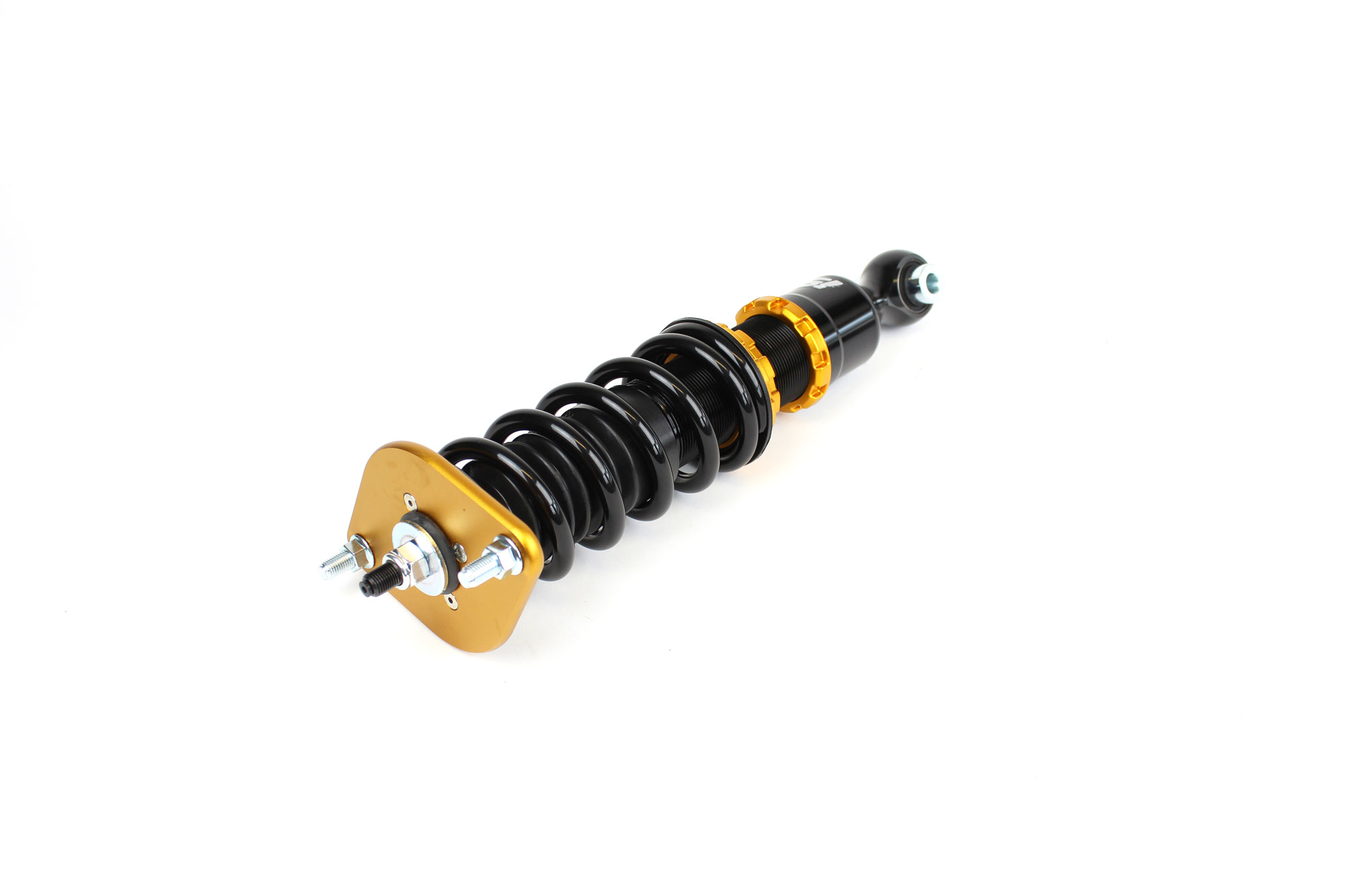 Street Comfort:
Our Street Comfort valving is the softest "off the shelf" damping we offer and gives the customer the closest to a factory ride quality. Although it shares the same spring rates as the street sport, the valving and shim stack are completely different. The Street Comfort valving paired with our 32-way rebound adjustability allows the customer to dial in their preferred ride.  This is great for someone who wants to lower their vehicle without having the stereotypical "harsh coilover ride" on the street. As the driver dials in more rebound damping, the valving curve actually overlaps slightly with our Street Sport valving. This gives the driver the ability to dial in a softer feel when driving on the street, but also the ability to dial it in to be more firm for more aggressive driving.
Street Sport:
The ISC Street Sport valving is far and away our top selling platform with the most versatility!  Roughly 65% of our customer base opt for the Street Sport valving. Why? It's perfect for someone looking for a damper curve for daily driving and someone that also uses their vehicle on the weekends for motorsport type events; whether that be canyon runs, track days, auto cross, drifting, or time attack. This is the ultimate suspension tool for the weekend warrior. A wide range of damping adjustment will allow the driver to change the ride of their vehicle to something relatively soft when needed or turn it up during those motorsport events.
Track/Race:
Our Track/Race valving is the most aggressive damping setup we offer. How does it differ from the Street Sport? This is a common question we get. If you overlayed the dyno graphs of the Street Sport and the Track/Race valving, you'll find that the hardest setting on our Street Sport valving is just shy of the softest setting on the Track/Race valving.  We only suggest the Track/Race valving for dedicated track cars that generally get towed to and from events. This valving would also be good for race cars that are very dependent on using aerodynamics (large front splitters, canards, flat bottoms, rear diffusers, large rear wings, etc). The spring rates are also higher on these, usually about 2 kg or more compared to the Street Comfort or Street Sports.
Custom Spring Rates:
This can be a very common question that we hear from customers that are reading information posted in online forums, etc. The ISC R&D team has spent a good amount of time developing and engineering our 3 valving options and pairing spring rates accordingly with each chassis (total vehicle weight as well as weight distribution throughout the chassis comes into play here).  There are certainly times though that the pairing we've made doesn't accomplish what the driver needs. We will explain some of these examples in a few.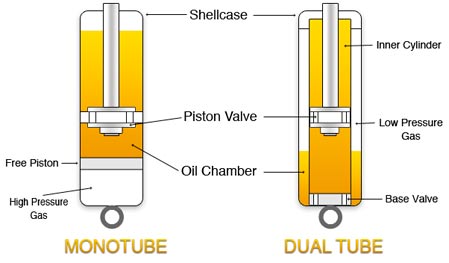 Monotube Vs Twintube – Which is a better choice for you?
Another term you might see in product descriptions from various brands are whether they are mono-tube or twin-tube construction. What does that actually mean, and should it matter to you? Here is a breakdown of features, pros and cons of the two popular suspension designs when compared to each other.
Mono-Tube
In a mono-tube shock absorber, the shocks components are contained within one tube. A mono-tube system contains a shell case which works as a cylinder. Within that cylinder you would find a piston valve, oil, and gas. The construction of a mono-tube does also include some differences compared to the twin-tube design. A mono-tube design utilizes a free piston which separates the oil chamber from the gas chamber within the shell case.
Twin-Tube
In a twin-tube shock absorber there are two cylinders: One cylinder is set inside the shell case, and the second cylinder contains the piston valve which moves up and down within this second cylinder known as the "inner cylinder". With a twin-tube design, there is no piston or barrier between the oil chamber and gas chamber.
Pros of Mono-Tube
As temperature increases, oil is able to release heat with less effort.
Zero restrictions on installation angles.
Less prone to cavitation
Larger oil capacity and greater heat dissipation allows for a stable damping force that is continuous.
Air is not able to penetrate the oil or gas since they are completely separated.
100% efficiency through all temps.
The piston valve is larger in a mono-tube design which allows for a wider area of pressure. In turn this means the shock can create even a subtle damping force precisely.
Cons of Mono-Tube
A stiffer ride is expected because an injection of high pressured gas is required in the structural design.
This high pressured gas can also lead to a higher amount of stress on seals which can cause more friction.
More expensive to manufacture
When there is external damage or force on the shell case, it directly affects the inner cylinder.
Pros of Twin-Tube
External damage to the shell case does not effect the shock absorber.
The twin-tube design provides a superior manufacturing process which keeps the cost of production low.
Gas pressure is kept low thanks to the base valve, this creates a more comfortable ride.
Low gas pressure reduces stress on seals and also keeps friction to a minimum.
Cons of Twin-Tube
The construction causes difficulties when installing.
Aeration is possible since the oil and gas chambers are not separated.
Size of Piston is greatly decreased compared to the mono-tube design.
Oil capacity is reduced in comparison to the the mono-tube.
Low Pressure – Generally very Soft
Small Pistons, more prone to heat and limited on damping
CAVITATION – Fluid and gas mix, exponential performance loss up to 35%
1 Directional Mounting
All ISC Suspension systems use the mono-tube design for performance purposes along with the fact that the pros of the mono-tube design outweigh its cons.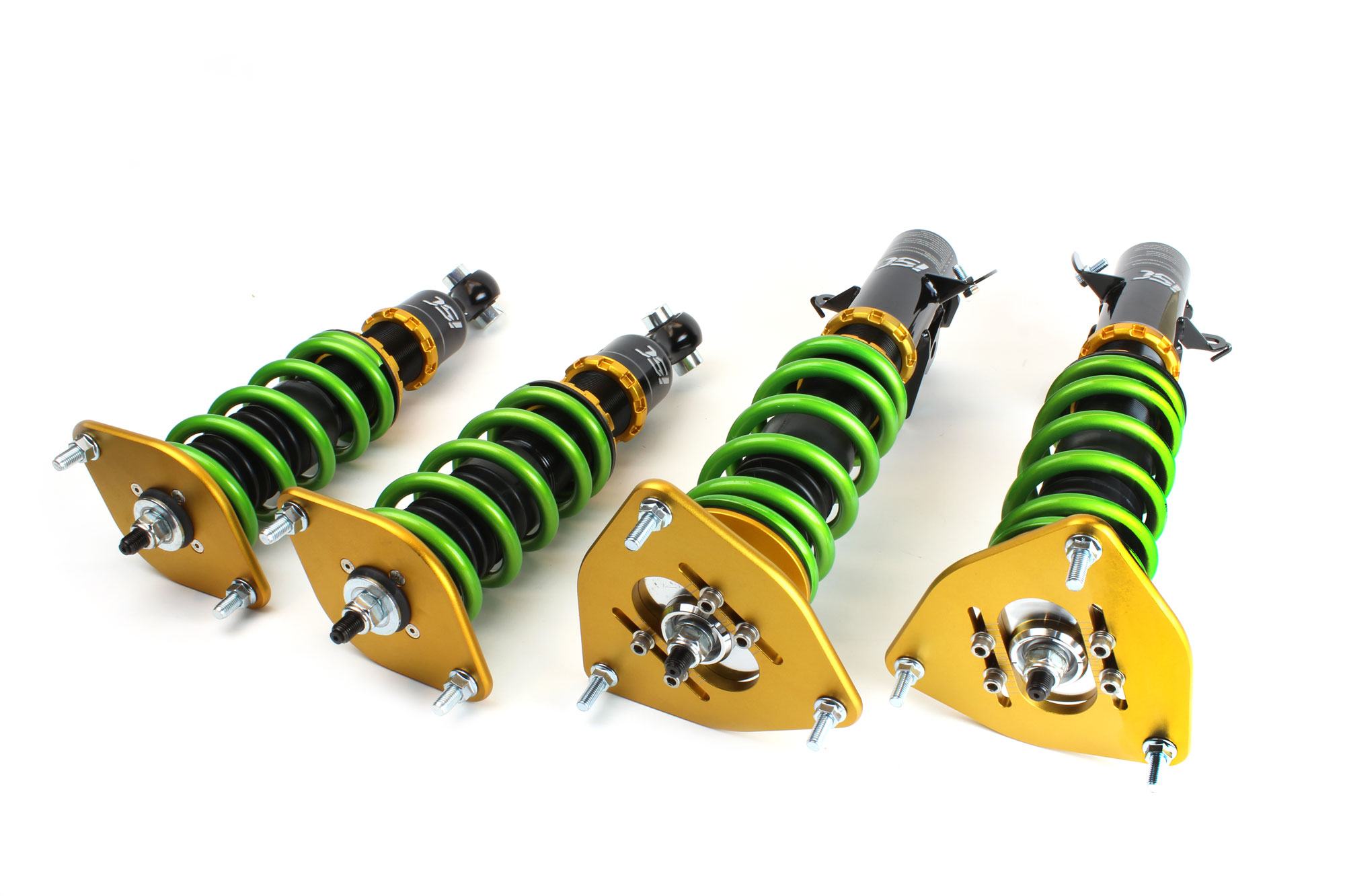 Are all coilover springs created equal?
So we summarized spring rates earlier, how and why we develop certain spring rates for specific platforms, and how we choose the suggested spring rates for our multiple valving options, and even why and when custom spring rates might be needed; but wait there's more! Not to overwhelm the entry level suspension buyer who just wants to lower their street car, but for the more tech savvy who demand more from their track car or street monster; seeking upgraded springs can be a great add-on for any coilover brand. Whether it is to shave weight, increase the performance of their existing coilover, or get a custom spring rate/length that "off the shelf" springs don't offer, upgraded coilover springs can help bring an existing suspension system to the next level.
The weight of the Triple S spring is usually about 20% lighter than most standard springs. This is important because less mass means the spring, and suspension in whole, can be more responsive. Less mass is typically referred to as less "unsprung weight". This is always something that a manufacturer or more importantly a race team is looking for. Second is the amount of pitch between each spring. Pitch can be described as the distance throughout compression between coils. To a certain extent, the more pitch a spring has, the better it can react, whether on the compression stroke or the rebound stroke. With the Triple S spring, we've found the pitch to be increased by more than 70% in most comparisons! The last big difference between our upgraded Triple S springs and most standard coilover springs is the stroke of the spring. The Triple S spring stroke is typically 10% more than most standard springs when comparing the same spring lengths. Due to having more spring pitch, the Triple S typically has less coils than most springs. Less coils and more pitch combine to give the spring more travel. The benefit to the customer is that the Triple S spring can be the same length and same spring rate, but offer more comfort due to all three of the advantages mentioned above; less weight, more pitch and more stroke!
Most Triple S springs utilize a linear rate design. This design is used to keep the spring rate the same throughout the stroke of the spring. There are typically two different spring designs that you'll find on the market; progressive rate springs and linear rate springs. Each of these designs generally have their own place in the market. What's the difference? The progressive rate spring means that as the spring is compressed, the spring rate increases. There are certainly pros and cons found in this design. One of the pros is that the initial compression of a progressive rate spring is usually pretty soft. This means that when driving down most streets, the small imperfections in the road don't "jar" the suspension and can give a pretty comfortable ride overall. Over larger bumps/more compression of the spring, the rate increases quickly to prevent the damper and/or car from bottoming out. So, the larger the bump, the higher the rate and maybe the more uncomfortable the ride. But, you're highly unlikely to constantly be driving over large bumps causing a spike in spring rate. The large majority of manufacturers use progressive rate springs when designing a vehicle. The downside of a progressive rate spring is that the spring rate is essentially "infinite". The reason this is a con is typically more surrounding performance oriented vehicles and drivers needing to know how the suspension is going to react in certain situations. With the progressive rate spring, there is an unknown in your suspension. So what about the linear rate springs typically seen throughout our Triple S line-up? Again, there are going to be pros and cons. The con is going to be that you give up some of that cushy ride from a progressive rate springs initial compression. Given that the linear rate spring is the same rate regardless of compression, in most applications, the spring has a higher rate. So, again, you give up a little ride comfort, but you gain predictability and generally more performance and confidence in your suspension. You'll find that most performance oriented suspension will have linear rate springs which give the suspension one rate throughout the complete travel. This gives the driver confidence in how the car is going to react.
For more information on ISC Suspension, visit iscsuspension-na.com.