ISC Suspension has some pretty deep roots in the Subaru community.  We have been working on Subaru's for a while now and have been big fans of the EJ platform for awhile.  Our first business model was geared towards Subaru, but since then we have branched out a bit more into almost every type of Import vehicle.  ISC Suspension can now be found on BMW, Volkswagen, Mazda, Mitsubishi, Ford, Acura, Lexus, and Honda models!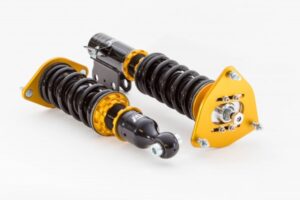 Today we wanted to take a step back though and focus on the 2008 STI coilovers and 2014 Subaru WRX & STI coilovers.  These two vehicles have been some of our best sellers for the past several years.  Now with the introduction of the 2015-2016 WRX and STi these vehicles are becoming cheaper and cheaper.  Whether you are looking for 2008, 2009, 2010, 2011 Subaru WRX coilovers or higher, now is the time to make a move!
—
The ISC-S008 and ISC-S007 ISC Suspension STI coilovers feature the same adjustments and are essentially the same coilover.  The only difference is the front bottom mounts.  The ISC-S007 is an STI coilover which was designed for the STi and utilizes a 5×114.3 wheel.  These coilovers feature our standard 32 way adjustable damping as well as independent pre-load and ride height adjustment.  The ISC-S007 and ISC-S008 are two of the more "slammable" coilovers that we offer.  Unlike BC Racing, there is no need to go for an "extreme low" with these.
The coilovers offer the following features:
Details:
ISO9001:2000R Certified
ARTC Certified
Warranty:
ISC warranties its coilover systems to the ORIGINAL PURCHASER against defects in workmanship and material for 5 years. Product registration is required, for more details visit here: Warranty
Adjustable Damping:
ISC Coilovers all come with 32 way adjustable damping that is rebound and compression in unison via 32 step adjustment.
Single Cylinder Mono-tube Design:
Large cylinder and piston design work hand in hand to increasing driving stability and dexterity. ISC utilizes a mono-tube design damper, not twin tube like other manufacturers. Mono-tube dampers provide consistent valving and much less potential for cavitation. They are also high pressure to reduce body roll, and are 100% efficient through all temperatures. Our larger pistons also allows more oil which provides better damping control and the ability to absorb higher forces. All ISC Dampers also utilize a double o-ring to prevent leaks.
Multiple Valving Options:
ISC Suspension offers three valving options to choose from, street comfort, street sport, and track race.
Street Comfort STI Suspensionis designed to feel close to OEM and is the most comfortable valving that we offer. If you are looking for a mild drop and comfortable ride this is for you!
Street Sport is designed to be above OEM, and is more aggressive and ideal for street, drift, and occasional autocross. If you're looking to bring your car to its limits on the street, this one is for you!
Track Race is our most aggressively valved and is suggested for road course, slammed show cars, and some form of drifting. If you are installing these coilovers on a dedicated weekend track car, this option is for you!
ISC also offers custom valving, please contact for an accurate ETA.
Piston Rod Design:
ISC utilizes high rigidity steel piston rods that meet all race and sport standards. ISC shafts are valved according to the spring rate chosen by the customer. A shock dyno is used to ensure quality and consistent results. All ISC dampers are 100% fully rebuildable.
Upper Mounts:
For optimal performance pillowball upper mounts are a great feature. ISC includes these upper mounts of all N1 Systems.
Front Camber Plates:
When your vehicle's suspension geometry allows (vehicle specific, please check our application guide) all ISC N1's come with adjustable camber plates standard.
Thrust Bearings:
While many coilover companies charge for thrust bearings ISC does not. These come standard on all N1 coilovers and help to eliminate spring bind; a common side effect of utilizing aftermarket coilovers.
Sport Spring:
ISC Suspension offers a variety of different spring's rates. Our springs are made from high quality SAE9254 Steel. They are dyno tested over 500,000 times on a compression inspection with less than 5% deformation. We are fully capable of offering custom spring rates as well! Every driver is different and we understand some may need custom spring rates.
Swift springs also available as an upgrade visit here for more information: Swift Springs
Ride Height Adjustable:
Full length height adjustability. Most applications can achieve 3 inches or more. High quality T6061 aluminum allow used for all adjustment locks to provide a lightweight design that holds spring and vehicle force down.
Bound Adjustable with Separate Spring Locks:
Preload is separate from ride height; the lower you go the quality of the ride stays the same!
Aluminum Brackets:
Made from T6061 aluminum allow by organic shaping to lighten weight and increase handling performance. ISC Gold or Black anodized surfaces help to prevent corrosion and surface rust. Most applications also feature mounting points for OEM brake line installation.
Fitment:
2008 STi/WRX
2009 STi/WRX
2010 STi/WRX
2011 STi/WRX
2012 STi/WRX
2013 STi/WRX
2014 STi/WRX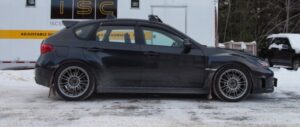 With the OE wheels, the WRX and STi are able to achieve 2 inches higher than stock in the front and also get 2 inches lower than stock in the front.  The rear at max height will eliminate all the wheel gap and can also go about 3 inches lower than stock.  To achieve the stance above you'd need to max the rear height out.  For the front simply have the shock threaded into the bottom mount until it is even with the bottom mount.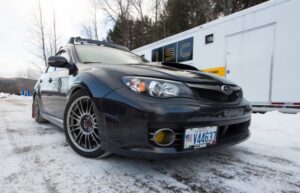 We used this vehicle to help create our first ISC Suspension installation guide.  These install guides will assist customers in understanding how to install our coilovers, however we do still recommend professional installation.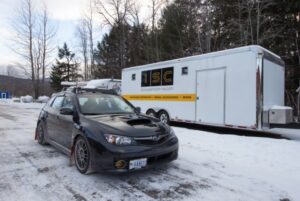 You can find this new installation guide here: https://iscsuspension-na.com/wp-content/uploads/2012/02/08-14-WRX-and-STi-Install-Guide.docx
You can also purchase these coilovers from your local dealer or through us directly here:
2008-2014 WRX: https://iscsuspension-na.com/store/#!/Subaru-Impreza-WRX-08+-ISC-Adjustable-Coilover-Car-Suspension/p/28352972/category=12617054
2008-2014 WRX STi: https://iscsuspension-na.com/store/#!/Subaru-Impreza-WRX-STI-08+-ISC-Adjustable-Coilover-Car-Suspension/p/28352975/category=12617055