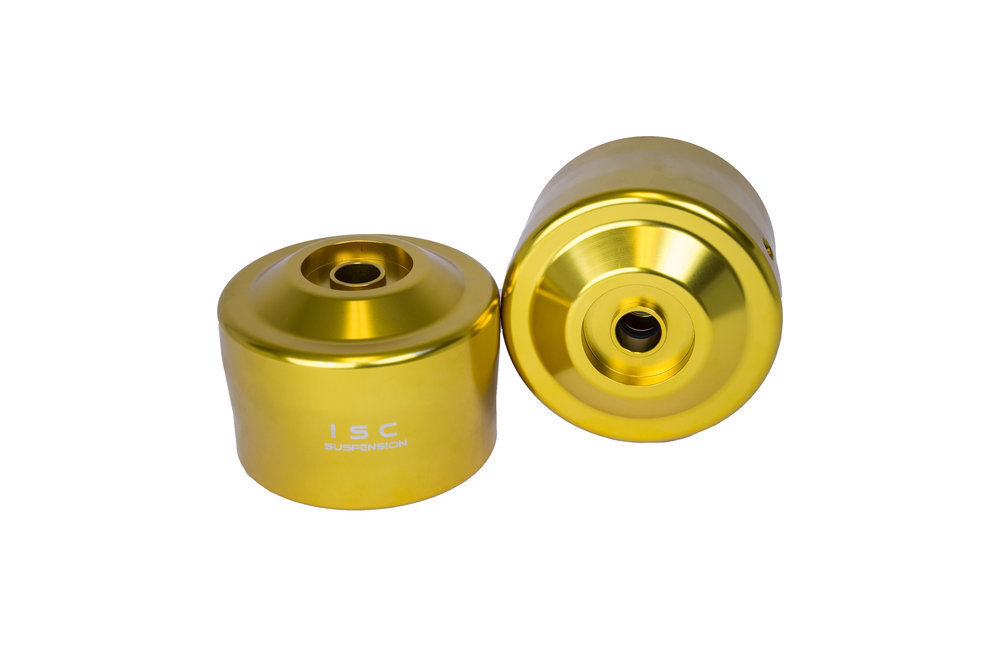 ISC Air Piston Coilover Cup 20mm Pair- Cups Only
00003GB
Product Details


Designed and Assembled in New Hampshire
6061 Aluminum
Anodized ISC Gold Finish with ISC Logo
Top Grade Seals and O-Rings
DOT Approved Fittings and Lines

1 to 2 inches of lift (depending on suspension geometry ie: McPherson strut, double A arm, etc)

Minimal Piston Stack Height Allows for Optimal Performance
Multiple packages available with and without air management
Sold in Pairs
2x ISC Springs included, or choose from any Triple S Spring
Limited Lifetime Warranty on Air Cups, 1 Year Warranty on Seals/O-Rings
What Is A Coilover Air Piston Cup Kit?

A coilover air cup kit is a happy medium between actual air ride and static coilovers. In fact it takes the benefits from both, and for the most part leaves behind the negatives associated with each. Might sound to good to be true, but we speak the truth!

Air cups do NOT sacrifice performance like a traditional air bag , AND coilover air cups have the ability for instant height adjustment when needed just like air bags.

How Does A Coilover Air Piston Cup Kit Work?

An aluminum cylinder with a internal piston sits on top of the coilover spring, replacing the upper spring perch. At normal "static" coilover ride height the air cup remains inactive, and is simply treated like a spring perch as the coilover functions normally. When a increase of height is needed (about 1-2 inches) in seconds you can raise the vehicle height as air pressure fills the cup chamber and pushes a piston down, in return compressing your spring and raising the vehicle. This is perfect for a track car getting out of a trailer, or a stanced car getting over a speed bump or up a driveway. You can sustain all the great performance features of your ISC coilovers, but have the convenience of air ride. Great product for a street car or a track car.

Save this product for later