Hello team gold members! ISC is looking to introduct a new product to the market for 2014 but we need YOUR help! ISC is lookng to introduce a solid front control arm for the BRZ/FRS platform that would replace the current flimsy OEM one.
As many of you know, the BRZ front control arm is extremely weak in comparison to what it should be, there have been tests that express additional flex just from people upgrading their pads and rotors! That's definitely not ok, and ISC would like to fix it!
Anyways, our product would be a CNC produced solid (no welds or tubes here) 6061 aluminum arm, for maximum performance and appeal. Color matched to the brand in ISC gold, complimenting our already available rear control arms for BRZ/FRS. There is potential that this could be sold as a full replacement set of control arms for  the BRZ/FRS.
For finish/ color reference here is the rear control arm we currently offer for the BRZ/FRS: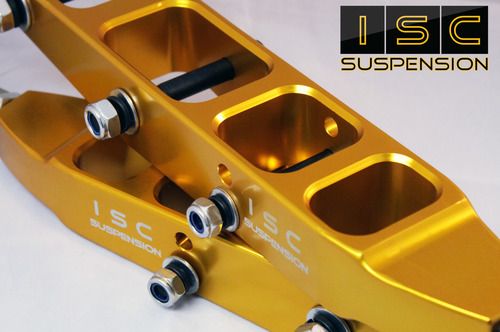 Whiteline Bushings and Ball Joints would be included and the option for just the control arm itself WITHOUT bushings would be available (if you wanted to use OEM)
We are aware that there is not much out there for this application that is affordable and readily available. That being said we understand that 2500.00 for a control arm is simply not in the budget for a lot of street cars.
We would aim for a RETAIL of 1250.00, with dealers selling them for the 955.00-1250.00 range, similar to our N1 coilovers.
Is this something you would be willing to pay?
We feel it would attract the motorsports enthusiast for its performance gains, but also the street car and show car due to its appeal and quality.
Let us know your thoughts!
Below is a sample drawing of the front arm:
Here is a 3D Printed model of our control arm as well!
We need your help! Is this something that people would be interested in? What else would you like to see as far as products go from us this year? Please let us know!
Thanks!
ISC Suspension R&D