Team O'Neil Drift School
The drift school offered by Team O'Neil is a great experience for anyone looking to get into drifting or even for pros who already know their way around a drift. Whether you're starting at the beginning or looking to get out of Group C, it really is money well spent. Their drift school operates at the NH Motor Speedway and has over 20 years of drifting experience. It is recommended to bring your own car so you can better learn the driving characteristics of your own car and receive pointers from their team of professionals. If you need to rent a car you can as Team O'Neil has Nissan 350Z drift cars available which will all include coilover suspension setups from ISC suspension. At Team O'Neil's drifting school you will learn some of the following: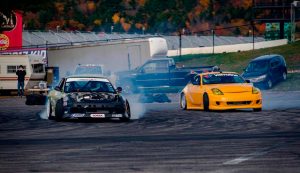 Proper Setup of your Vehicle
Drifting Angle & Speed
Car Control
Forming a drift
How to Extend a Drift
Linking
Clipping Points
Lines
Transitions
You will also be given tips from professional drifters regarding your own cars characteristics, suggestions for upgrades, and much more!
Prices start at $400 per person and a car rental costs $400 as well. If you sign up before April 1st of 2017, you can receive $150 off your price using the coupon code "DRIFT2017". Happy drifting 🙂