January 21st 2017- Clublosse North Ice Slayer's Event Hosted at Team O'Neil Rally School
Usually winter for us is fairly quiet on the motorsports end of things. Being located in Northern New England, Mother Nature does not usually allow for a lot of activities involving driving, especially for drift cars. This past weekend on January 21st things were a little out of the ordinary.
We took our Nissan 350z Drift Car Project out of hibernation (https://iscsuspension-na.com/company-vehicles/isc-nissan-350z-drift-car-project/) . Fluids were changed, batteries charged, tires installed and inflated and the ISC crew went northbound up to Dalton New Hampshire to visit the Team O'Neil Rally School (www.teamoneil.com). This event was put together by Team O'Neil and ClubLoose North (www.clubloosenorth.com) , our local drift club located here in New Hampshire.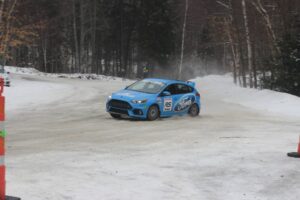 For those of you who are unfamiliar with Team O'Neil Rally School, we highly suggest you check these guys out. Whether you are a Subaru or Ford owner looking to get into rally or rally cross in your personal car, or simply want to become a better driver this facility and business has something to offer for any car enthusiast. They also build rally cars for customers and even have programs that can help manage an entire rally team! Their facility and programs have attracted famous athletes from around the country over the years, like Travis Pastrana, Ken Block, and other well-known drivers who have competed on national and global levels in motorsports.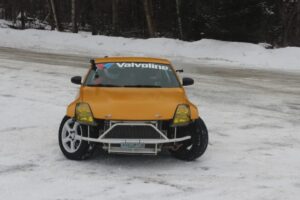 Not knowing what to expect condition wise we opted for some OEM style studded snow tires, in hopes to be able to obtain the amount of grip needed to drift their snow/ice covered rally courses. The ability to know what amount of traction we would be able to get was fairly unknown. The winter has been pretty unpredictable so far this year, with drastic temperature changes and minimal snowfall the course was primarily a base layer of ice, with some exposed hard pack gravel here and there. Packed snow was not readily available like we all would have hoped (for traction purposes) but that's the way it goes up in Northern New England, unpredictable!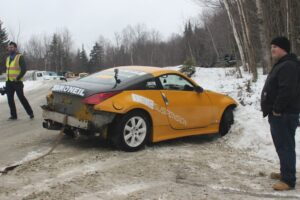 Little bit of a traction issue on this tricky corner
We had a great time just being able to get out there and drive, although the amount of grip was very limited for our RWD drift car due to it being mostly ice and now snow, we certainly had no lack in smiles and laughter. The event also attracted a lot of Subaru enthusiasts, which as you know ISC is no stranger to the Subaru community so it was great to see these AWD snow machines tear up the course as well, many of them running on our N1 and N1 basic coilovers.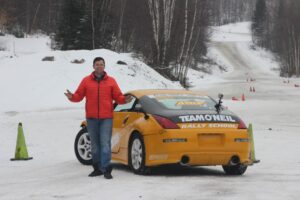 I think Tim is saying, can we go again guys?