ISC is bringing you another new product this week! After some time and extensive development we are proud to release our Ford Focus ST Coilover setup. The Ford Focus came to the US in 2012, the same year the Focus was named the best selling car in the world! The Ford Focus ST has since become a top selling car in the United States and is highly popular. The Ford Focus ST truly embodies the "Hot Hatch" and is a 2.0l turbocharged Ecoboost 4 door hatchback. The Ford Focus ST is only available as a hatchback and features a more aggressive design than the regular Ford Focus.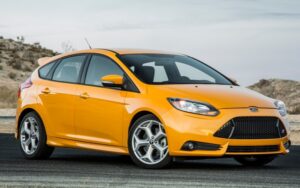 For testing, ISC Suspension turned to the New England Ford Focus community of New England ST and found an individual that was willing to test fit our experimental setup. After minor tweaks and some changes in spring rates to increase the performance of the Street Sport setup we came to the current model of the Ford Focus ST setup. The Ford Focus ST Coilover setup comes with pillow ball and camber plates standard. The kit will also include endlinks and thrust bearings standard that are designed for the vehicle. The kit also contains the usual features of and ISC N1 setup, but is also offered in a more affordable Basic setup found here. The ISC N1 variant will feature:
ISC's 5 Year Warranty
32 Way Adjustable Damping
Mono-Tube Design
3 Valving Options, Comfort, Street, and Race
Piston Rod Design
Pillowball Uppermounts
Front Camber Plates
Thrust Bearings
Sport Spring
Independent ride height and pre-load adjustment
Aluminum Brackets
Spring rates for the Ford Focus ST ISC N1 coilover are: Street Comfort and Street Sport: 8k Front 4.7k Rear Track Race: 10K Front 7k Rear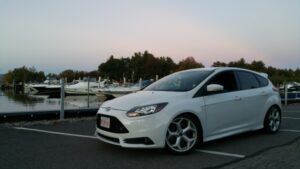 The Ford Focus ST Coilover setup delivers 1.5 to 2 inches of lowering as well as allowing individuals to obtain stock ride height. These Coilovers are now available and can be purchased for any authorized ISC Dealer that can be found on our list here: https://iscsuspension-na.com/dealers/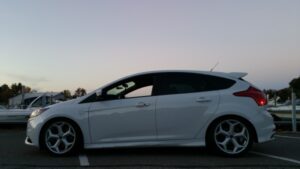 If you prefer to purchase directly from ISC Suspension you can do so here at this link: ISC Adjustable Coilovers for 12+ Ford Focus ST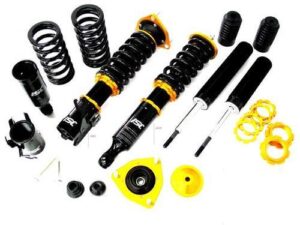 We are still currently offering our coilovers for the discounted rate of $1030 with FREE coilover covers until January 8th. Contact ISC Suspension at [email protected] to find out more information about how you can redeem this offer.