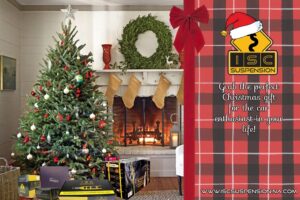 Some affordable "stocking stuffer" gifts from ISC for the holidays. These gifts are appropriate for any budget, from T-Shirts to Triple S upgraded coilover springs. Last minute is no problem when you use code "freeship" and get FREE shipping and delivery before Christmas if ordered before 12/19/19.
Our wheel spacers are a great option for your winter wheels, so you still have the stance you need. Our coilover covers are a great addition to any coilover, to project from the harsh winter elements like sand/snow and salt! ISC rear extenders are a must have, and allow easy coilover dampening adjustment even in hard to reach models where coilovers hide behind the seat or in the trunk.
Made locally here in NH!
We have spacers in multiple sizes, all are hubcentric to the vehicle you own! No plastic or metal hub rings here. Mazda, BMW, Subaru, Ford, Mitsubishi, Lexus, and many more.
Did you know these are made of 3mm neoprene? Just like a wet-suit! They are available in two sized, a 300mm and 370mm in length. You do not have to take your coilovers off to install them, since they have a Velcro opening, just peal and stick!
Represent your favorite suspension company on and off the track with some ISC apparel. We have multiple sizes available, including woman's specific. Choose from 1 of our 3 designs.
These little guys are awesome, a great compliment to your FT86/BRZ/FRS, especially if you already have our rear adjustable ISC control arms! Made of the same 6061-T aluminum. Did you know the OEM stamped steel front control arm has tons of flex? These CNC aluminum braces help decrease flex, and also increase the level of GOLD under your car!
Simple, effective, and awesome. We have offered these extenders for years, and they make every customer's life easier, honestly a must have for so many platforms.
The ISC Triple S upgraded coilover springs are one of the latest and greatest coilover suspension upgrades on the market today. Our Triple S Coilover springs are made of TS2000 (with a tensile strength of 2000 MPA), as apposed to a traditional coilover spring which is usually SAE9254 (1800 MPA). This specially developed material allows us to manufacture springs in a unique method which yields a product with more usable stroke that is both lighter in weight, and offers increased ride quality and durability than almost any other coilover spring on the market.
Our V3 Control arms are a great seller and make a huge difference on the car!