ISC Suspension is really excited to announce our newest product, the 2015+ Ford Mustang Coilover set. This is a set that we have been developing in secret for some time and we're so excited to be able to show you all the new finished kit and even more excited to get them out on some Ford Mustangs. The Ford Mustang coilover kit features the same great adjustment range that all of our coilover kits come with including:
An industry leading 5 year warranty
ISO 9001:2000R certified
32 way adjustable damping
Singe Cylinder Mono-Tube Design
3 Valving options utilizing 3 different shim stacks
Piston Rod Design
Front Camber Plates
Thrust Bearings
Sport Springs with less than 5% deformation (Swift also Available)
Independent Pre-Load and Ride Height
Aluminum bottom brackets
These kits are now available and can be purchased directly through ISC Suspension or through any of our Dealers. Please refer to this section of the website to find an authorized dealer in your state. It is important to make sure you also register your product after purchase. Items purchased from unauthorized dealers will not be eligible for ISC's 5 year warranty.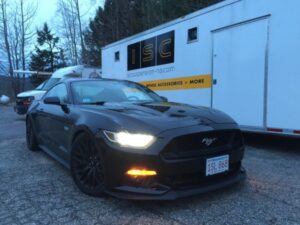 Lowering the 2015 Ford Mustang really makes the car looks aggressive.
The Ford Mustang Kit provides an initial lowering of about 1 inch from stock. The kit can definitely get your Mustang low and offers about 3 inches of adjustment from it's initial drop. If you are a Mustang owner and you want to get to full height then please advise us before you purchase. We will be happy to try and accommodate you and can get a longer shaft to help you acheive stock ride height.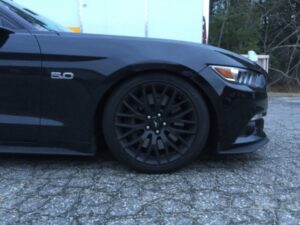 Mild drop on the test Mustang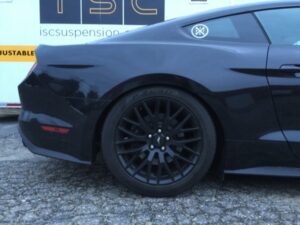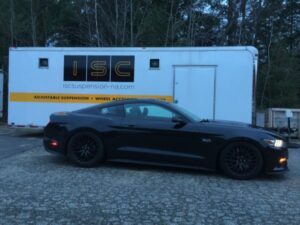 We look forward to seeing more Ford Mustangs on our coilovers! We will have more products for the Mustang and other American Cars this year! Stay tuned for an update on that later in the year.