This week we are going to do a spotlight on one of our sponsors, Melissa! Melissa joined us last year at the start of the season and has been a great supporter and has done a great job representing our brand! Melissa currently owns 2 Subarus. That's right, 2! Most people wish they could just afford 1, but Mellisa has a daily driver WRX and a weekend/performance oriented STi. Mellisa is well known for her STi and also in the Subaru community as a "Subaru Girl". Melissa currently runs our Subaru STi Coilovers. They come standard in a 8k front and 6k rear configuration. We offer three variants, Street Comfort, Street Sport, and Track/Race. Spring rates are adjustable as well, but for most vehicles as well as Melissa's the 8k front and 6k rear is dialed in very well. We also offer rear camber plates for the GD chassis. These allow you to get maximum camber out of the back of the car.
Melissa currently has the following Modifications on her car:
Engine:
Cobb Tuning SF Intake + SF Airbox
Grimmspeed Alternator Cover
Perrin Perfornance Radiator Shroud
NGK Iridium Spark Plugs
Killer B Oil Pickup
Cobb Tuning Accessport V2
Grimmspeed Lightweight Crank Pully
Exhaust:
Cobb Tuning Stainless Steel Turbo Heatshield
HK Hi-Power Catback
Invidia V2 Downpipe
Brakes:
Drive-train:
Kartboy Short Throw Shifter and superpro bushings
Suspension:
ISC N1 Adjustable Coilovers
ISC Rear Camber Plates
Wheels:
18 inch Work Emotion CR Ultimates ("Kiwami") 18X9.5 + 38 wrapped in Dunlop Sportmax tires with Muteki Neochrome SR48 lugnuts.
Exterior:
Cobb Tuning license plate delete
Sparco tow strap
Rallytech tow hook
White Hella Horn Kit
Really Amor Mudflaps (Breast Cancer awareness)
Chargespeed Side Skirt Extenstions
Modgeeks stealth black headlight with painted high beam bezzels
Subi LED high beams
Subi LED reverse lights
Subie LED license plate lights
Interior:
Hydrodipped center console
Hydrodipped air vents
Subieled dome lights
Autometer boost gauge
Sparco cam lock harness w/ harness bar
Racesend Ashiko shift knob (white)
Works bell rapfix short hub
Works bell rapix steering wheel quick release
Avenue Performance steering wheel black with Leather and black spokes. 350MM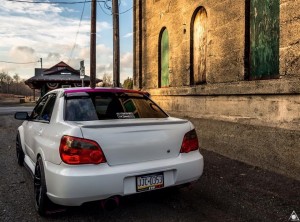 When you meet Melissa she has a wonderful personality. She is easy to work with and really does have a passion for her car. She loves Snowboarding and has recently been doing a lot of work with Vinyl as well as promoting her own brand/car group called Six Star Society. She is self motivated and it was one of the reasons we sponsored her. Melissa is never scared to express her opinion and tell you how it is!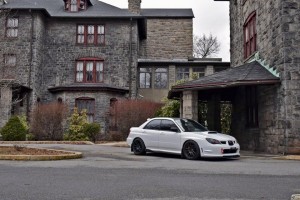 You can use code "6STARS" at checkout to use Melissa's coupon code! Follow her on social media here: