The time has come to sell the Subaru BRZ. We've decided that we want to move onto another chassis for drifting next year! We can't yet say which Chassis we want but it will certainly be a sick one. For now though we need to focus on trying to find our Subaru BRZ a new home!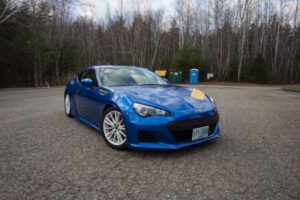 The car has less than 19,000 miles on it, that's right, LESS than 19,000 miles on it. The car is in great condition with no issues. The motor is strong and well cared for even though it was a drift missile. The car received oil changes after every event during the drift season and during these colder months it was always warmed up to temp before we'd even think of driving it. All fluids are up to date and the car is ready for a long lifetime or track, drifting, or daily driving!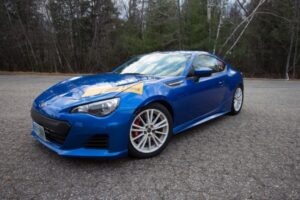 The car is currently for sale for $13,500 stock, or $16,500 "as is" or with the Aftermarket parts still installed. The car will not be sold with aftermarket wheels that many saw the car on this season. It will come with the OEM Subaru BRZ Wheels Plastidipped White (Nothing wrong with the wheels, we just love Subarus with White Wheels) with Achilles ATR Sport radials with plenty of life left. These tires are not Drift Specific and can be driven on for normal day to day driving.
The interior is kept clean and simple, the car came to us with an aftermarket Double Din stereo. The inside is clean, and free of dirt scratches or debris. Everything works as well. The car itself is a Subaru BRZ Premium, but still features special things like Projector headlights with a self adjusting system.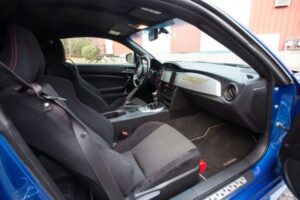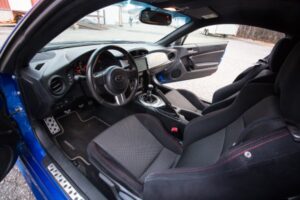 As we said above the motor is in great shape and has been kept in great condition. The engine bay is clean and free of dirt and debris. The car has also always been professionally detailed and is very clean.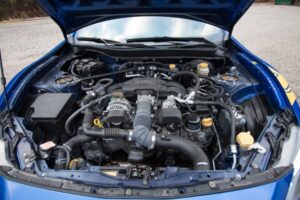 This Subaru BRZ is ready to go with suspension and all! We hope it will go to a good home and are interested to see its next step in life! Below is the official modification list for someone who may wish to purchase the car "as is" for $16,500. Offers are accepted as long as they are reasonable.
Suspension + Wheel:
ISC Wheel Spacers
ISC N1 Coilovers
ISC Coilover Covers
ISC Rear Control Arms
Whiteline Swaybars
Whiteline Endlinks
Whiteline lock down kit and bushings
Whiteline Bump Steer Kit
ISC Suspension Drift Bumper Bar
ISC Angle Kit
Brakes:
Stoptech Front Big Brake Kit
Stoptech rear pads and rotors
Stainless Lines
Perrin Ebrake Drift Button
Exterior:
Aftermarket color matched Side Skirts
NRG carbon Fiber Drift Wing (removable and optional)
Exhaust:
Borla Headers
Tanabe Mid Pipe
Perrin catback (3 inch)
Intake:
Perrin Intake
If you are interested in seeing our Subaru BRZ in person please contact us at 603-715-9078! Thank you for looking!