What is an Air Cup?
What is an Air Cup and How Do they Work?
Air cups are pneumatic pistons. When you pump air into the cylinder, the car will raise. As you decrease pressure, it will lower the suspension, therefore lowering the car. There is no bag or bladder, it is rather a piston "lift" system. If you have any loss of air pressure in the air cup, you would essentially be riding static, so there is no need to worry if a line or something else fails in the system. With the air cup completely decompressed, the ride would be as if you had no air cup installed. Modern systems have a narrow footprint which allow the air cups to fit over most coilovers. Air cups essentially allow you to "get over things" that you normally couldn't get over with a low suspension setup. If you like a low riding stance, but have issues with getting over obstacles, air cups will solve your issue. They also stop rubbing problems that are caused from a low riding car when turning.
Why Do I Need Shorter Springs?
Shorter springs are required in order to fit the air cup on the assembly. Generally you will need to reduce the spring by 1.5 inches or 40mm down on the shock body.
ISC currently has a prototype available which can be viewed in the below image:
Specifications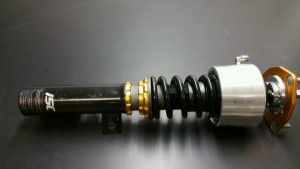 6061 Machined Aluminum
Anodized Finish with ISC Logo
Designed and Assembled in USA
USA made seals/ 0-rings
Limited Lifetime Warranty on Cups
1 Year warranty on all seals/ 0-rings
Fitment: ISC Coilovers
1-2 inches of height adjustment depending on application
MSRP: $805.00 (1 pair of cups, air management sold separately)