Monotube Vs Twin-Tube – What is the Difference? What is Better?
There are many rumors and discussions regarding which type of shock absorber is better, the Mono-tube or the Twin-tube? Mono-tube and twin-tube are known as two different types of suspension systems that each work in very different ways.
Mono-Tube
In a mono-tube shock absorber, the shocks components are contained within one tube. A mono-tube system contains a shell case which works as a cylinder. Within that cylinder you would find a piston valve, oil, and gas. The construction of a mono-tube does also include some differences compared to the twin-tube design. A mono-tube design utilizes a free piston which separates the oil chamber from the gas chamber within the shell case.
Twin-Tube
In a twin-tube shock absorber there are 2 cylinders: 1 cylinder is set inside the shell case, and the second cylinder contains the piston valve which moves up and down within this second cylinder known as the "inner cylinder". With a twin-tube design, there is no piston or barrier between the oil chamber and gas chamber.
Pros and Cons of Mono-Tube Shock Absorbers
Pros of Mono-Tube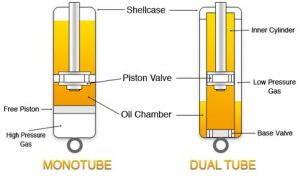 As temperature increases, oil is able to release heat with less effort.
Zero restrictions on installation angles.
Less prone to cavitation
Larger oil capacity and greater heat dissipation allows for a stable damping force that is continuous.
Air is not able to penetrate the oil or gas since they are completely separated.
100% efficiency through all temps.
The piston valve is bigger and wider in a mono-tube design which allows for a wider area of pressure. In turn this means the shock can create even a subtle damping force precisely.
Cons of Mono-Tube
A stiffer ride is expected because an injection of high pressured gas is required in the structural design.
This high pressured gas can also lead to a higher amount of stress on seals which can cause more friction.
More expensive to manufacture
When there is external damage or force on the shell case, that directly affects the inner cylinder.
Since the oil and gas chambers are positioned next to each other, it is increasingly difficult to maintain sufficient stroke.
The inverted design has more friction caused from more moving parts.
Pros and Cons of Twin-Tube Shock Absorbers
Pros of Twin-Tube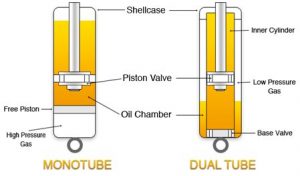 Unlike the inverted design, friction can be stopped.
External damage to the shell case does not effect the shock absorber.
The twin-tube design provides a superior manufacturing process which keeps the cost of production low.
Gas pressure is kept low thanks to the base valve, this creates a more comfortable ride.
Low gas pressure reduces stress on seals and also keeps friction to a minimum.
Sufficient stroke is attained with far less effort. This is because each oil and gas chamber are separated.
Cons of Twin-Tube
The construction causes difficulties when installing.
Aeration is possible since the oil and gas chambers are not separated.
Size of Piston is greatly decreased compared to the mono-tube design.
Oil capacity is reduced in comparison to the the mono-tube.
Low Pressure – Generally very Soft
Small Pistons, more prone to heat and limited on damping
CAVITATION- Fluid and gas mix, exponential performance loss up to 35%
1 Directional Mounting
All ISC Suspension systems use the mono-tube design for performance purposes along with the fact that the pros of the mono-tube design greatly outweigh it's cons.