SEMA Show or, Specialty Equipment Market Association show is a trade only show held every year in Las Vegas Nevada at the Convention centers. It is probably the largest automotive gather in the United States, and is one of the largest events in Las Vegas only compared next to CES. Everyone loves SEMA and understands how important it is to attend. At SEMA new products are usually unveiled, and some companies spend entire years building vehicles for the show. ISC Suspension did not have a booth this year, and instead chose to attend as buyers to explore the offerings of the show. There were tons of different vehicles from lifted trucks to slammed Rocket Bunny kitted Nissan S13s. This was especially interesting to us since you do not see many individuals with Rocket Bunny kits on the Northeast. Sure, there are a lot of wide body cars but not many Rocket Bunny kits or Rauh Welt Porsches.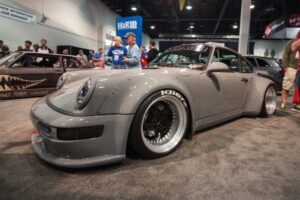 Nothing is better than getting to see your first Rauh Welt Porsche in person…
The show continues to grow ever year we attend. This year was supposedly one of the largest ones they have ever had and you could tell. While the show is trade only there are many spouses and children that get to attend the show.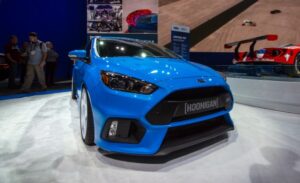 The 2016 Ford Focus RS featuring Ken Block's signature line "Hoonigan"
Ford probably took the cake for best booth. They had so many vehicles on display including a bunch of build Focus ST's from different manufacturers including Rally Innovations and D-Sport.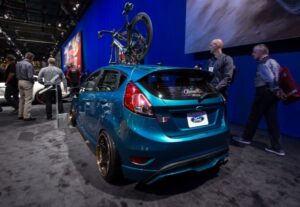 Bike Racks were very popular at SEMA and Ford's Booth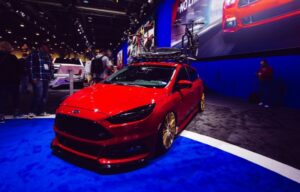 If you are a member of the automotive Industry and you have not had the chance to SEMA I would highly encourage you to even if it is on your own dime. The amount of vehicles is overwhelming but also so satisfying. All sorts of different vehicles from different walks of life. So many different styles as well! SEMA can really reinvigorate the car enthusiast in all of us.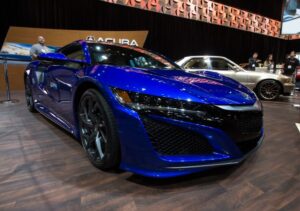 Acura had their new NSX on display at the Honda/Acura booth. Hopefully we will see this car on the streets soon. I've been waiting since those Seinfeld vs Jay Leno commercials.
[embedvideo type="youtube" id="s9aW8uFtgeI"]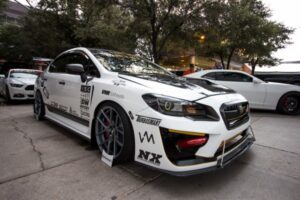 There was a surprising lack of Subarus at SEMA this year. Thankfully we had one of our dealers Mixxed Auto Design that had their 2015 WRX proudly displaying ISC Coilovers and Control Arms. Adam the owner, has shops in LA and a new shop he is building in Phoenix.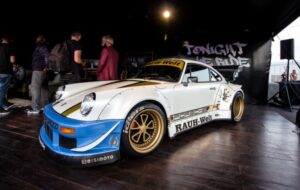 Tucked in the back of SEMA Need for Speed had a booth showing on their Rauh Welt Porsche that is featured in the game. They had demos of the game and the employees were all sporting a new sweatshirt that will be distributed soon through Illest featuring the sponsors of the game and the outline of the Porsche.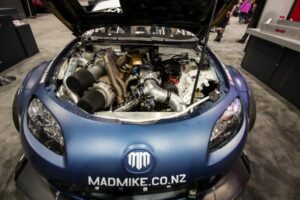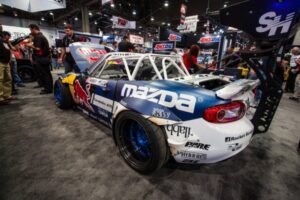 Mad Mike's 4 Rotor MX-5 was out in full force looking clean as possible. The car had some slight battle damage but just proves that it's a trait that makes the car that much cooler.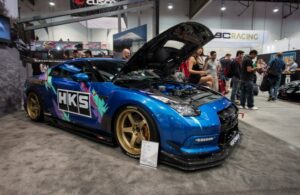 HKS featured a GTR that was built by Kaizen Tuning in MA. We have a great relationship with them and love seeing the incredible builds that they come out with. This GTR sported over 1,000 HP and looked slick in it's Blue paint job. The car was a true piece of art.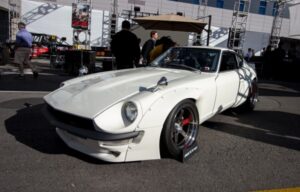 Last but certainly not least was Sung Kang's 240Z. The S30 looked amazing and was the winner of Gran Turismo's award for best car. The car is going to be featured in a future Gran Turismo game for the PS4.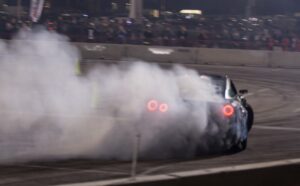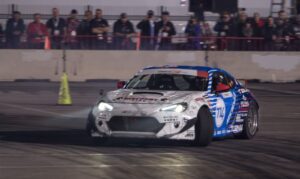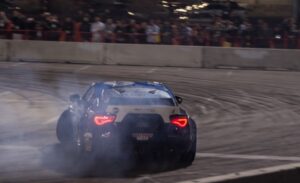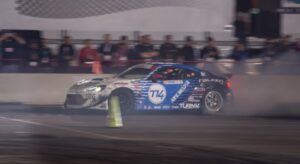 At the end of the SEMA show is the SEMA cruise, and more recently SEMA Ignited which anyone can attend. It's a celebration at the end of the show where everyone can unwind and let their hair down so to speak. It was a lot of fun, and even better because it featured Formula Drift Drivers. The course was tight and narrow and spectators could get surprisingly close! Sometimes you can't even get that close on an actual Formula Drift track! Dai Yoshihara's Turn 14 BRZ looked great! And recent Formula D Pro 2 champion Alex Heilbrunn really ripped some great laps!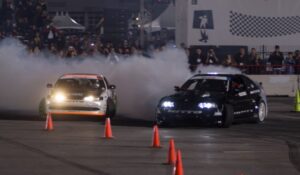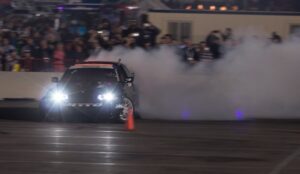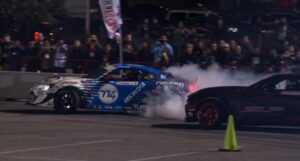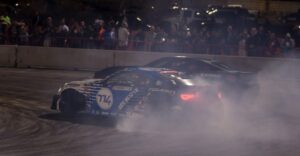 At the end of SEMA Ignited we were covered in rubber and ready to head home. We hit our red eye and took our flight back to NH. SEMA was a great experience and we really look forward to going again next year! Until next year SEMA!
-ISC Suspension